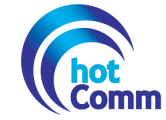 Firewalls - McAfee
Document number: faqmc
Copyright (c) 2001-2003 1stWorks Corporation. All rights reserved.
---
Allow hotComm.exe
Referer Information
---
McAfee Firewalls
McAfee firewall products include McAfee Internet Security and Personal Firewall. Your firewall product may prevent you from connecting to the 1stWorks Network or to a hotComm room.

Information about McAfee firewall products is available from McAfee at www.mcafee.com.
---
Allow hotComm.exe
If you are running McAfee Internet Security or Personal Firewall, it might prevent you from connecting to the 1stWorks VNS Network. (If you stay "Signed Out", and the earphones on the tiny hotComm headset icon in your Windows icon/system tray stay white, then you are NOT connected.)
Note: this often does not appear until you have been running hotComm for several days or weeks.
Solution:
In McAfee Internet Security, open the Configuration screen and enable hotComm.exe


Close hotComm, wait 20 seconds, and restart hotComm.
Any McAfee Security aces out there who can send me a screenshot of the McAfee Configure screen, as well as specific instructions, your help is appreciated. Please email them to support@1stWorks.com. Thank you!
Top
---
Enable Referer Sharing
If you click on a hotLink in a password protected area, and you are re-directed to another page instead of connecting through hotComm, or the page cannot be displayed, then you may need to tell the firewall product to allow information about the site you visited (referer) to be sent to hotComm.

McAfee Internet Security 6.0

To enable Referer Sharing:
Open McAfee
Select Privacy Service.
Select Protect my Identity.
Select Erase Revealing Information.
Remove the check for Prevent Referer Information to be Shared.
Top