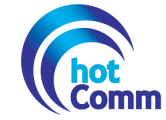 FAQ - TrendMicro
Document number: faqTM-01
Copyright (c) 2001-2009 1stWorks Corporation. All rights reserved.
---
TrendMicro Internet Security Pro


TrendMicro Internet Security Pro: screenshots 9/12/08
Program version: 16.10.1182
Engine version: 8.900.1001
Pattern version: 5.539.50

9/12/08 - TrendMicro Internet Security Pro may not cause you any problems. You may not see any alerts. It may work well until one day something happens, and hotComm is seen as a threat.

If you see a TrendMicro alert, always allow hotComm the requested access or action.

Areas to look are:

Web Sites with Extra Hosts File Entries. If you are using the hotComm Connect link, make sure hcurltest1 and hcurltest2 are allowed.

Program Control. Make sure that the following files are not blocked: hotcomm.exe, hotcommd.exe, hcrg.exe, hcupd.exe, f2p.com, pc2me.net

Network Protocol Control. If you are opening ports so that hotComm Std/Pro, Files2Phones, or PC2Me can accept incoming TCP connections initiated externally, configure them here.

Changes Exceptions. When you update your hotComm software, you may be prompted to allow the change.



7/8/08 - In updating from hotComm revision 7.20 to 7.30, one customer reported that TrendMicro identified hotComm as a virus threat and blocked it from connecting to the 1stWorks Network, and therefore remaining in "Signed Out" status. After working with TrendMicro support for several hours to configure TrendMicro to allow hotComm, the customer decided to uninstall TrendMicro, uninstall hotComm, restart his computer, reinstall TrendMicro, and reinstall hotComm. That worked and he was able to connect successfully.



---
Alerts
Firefox opening HCurl with TrendMicro Hosts Alert
---
Virus & Spyware Controls
1. Protection Against Viruses and Spyware
Settings for Protection Against Viruses & Spyware
Exception Lists
2. Prevent Unauthorized Changes
Settings to Prevent Unauthorized Changes
Exception List
---
Home Network & Firewall Controls
Personal Firewall Settings #12
Advanced Personal Firewall Profile Settings
Program Control tab
Personal Firewall Profiles: hotComm Std/Pro Online-Proxied #18
Personal Firewall Profiles: hotComm Lite #19
Personal Firewall Profiles hotComm CL #20
Network Protocol Control tab
Personal Firewall Profiles: hotComm Std/Pro Online-Direct #37
Personal Firewall Profiles: F2P Online-Direct #38
Proxy tab
---
Internet & Email Controls
Protection Against Web Threats Settings
List of Approved Web Sites
List of Blocked Web Sites
Web Sites with Extra Hosts File Entries
---
Other Settings
Automatic Updates
---
Pro Services
TrendMicro Internet Security Pro Services




Updated 9/15/08
Top