Free Product Trial
1stWorks Corporation is pleased to present a FREE trial of hotComm with these products enabled: hotComm Professional, Dynamic Desktop, IM-Live, Call Group Manager, Content Relay Manager and ezPeer.

If you choose to purchase any of these products, any unused trial time will be added to your total license period.
Designed to leverage the 1stWorks Network, a powerful, scalable and secure peer networking architecture, hotComm is the desktop client which provides fast, efficient, private interactive access or exchange of text, voice, video, data and applications between participating hotComm users on the Web. Further, any user may be client or server or both, providing maximum flexibility and interoperability among the users, who may be world-wide. All they need is Internet access.

The hotComm client, which is downloaded and installed on each user's computer, periodically updates the user's currently active network IP address, even among dynamically connected users. This information enables the 1stWorks Network to maintain a table of active users so that, after authentication, individual users are able to establish direct, interactive and secure peered connections between individuals or groups.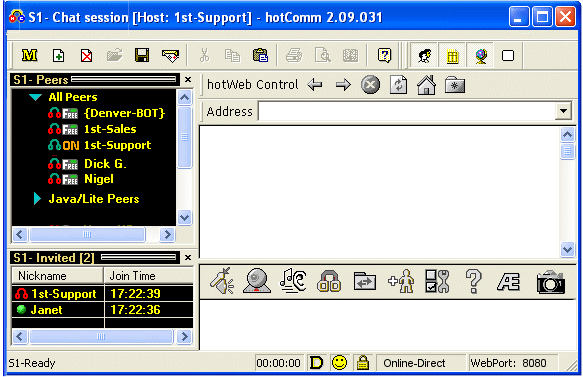 hotComm

hotComm is available with several levels of collaboration and connectivity:


See our Feature Comparison to determine which hotComm is right for you.
IM-Live

IM-Live delivers immediate, server less, browser-based connections for any online sales and service opportunity. When a prospect clicks on your IM-Live link, which can be placed on your Web page or in the signature of your email messages, IM-Live launches a powerful local Java applet which automatically creates a direct, secure real time connection between you and your customers or prospects. Now you can respond to questions using chat, voice, video and content in real time and make the sale. Customer inquiries can be answered wherever you are on the Internet, immediately, interactively, creating the timely response that builds better customer relationships. Even the page where the connection was launched is presented to you, so that your responses can be more focused and effective.
Click here for more information.

IM-Live is included in all fully featured hotComm Standard and Pro clients.
ezPeer

1stWorks Network extends its patent pending address management technology to provide dynamic address redirection for Web sites hosted on computers with dynamic IP or port addresses. No more servers to update, your own computer is your web site, its IP address is updated whenever you access the Internet through hotComm. The 1stworks Network and the Virtual Network Server automatically provide dynamic address redirection and makes the Web site on your own computer visible to the World.
Click here for more information.

ezPeer is included in all fully featured hotComm Standard and Pro clients.
Dynamic Desktop

With Dynamic Desktop, you can securely and spontaneously share any desktop. Share any application on your desktop. Colleagues, customers and prospects can connect through hotComm or IM-Live, our Java applet client, which enables any browser. No ports to open, no IP addresses to expose, just click and connect. 1stWorks technology means that you can control their access and privileges. You only share the application you choose, so your system is protected while your visitor can see all that you want to show in real time. For Sales applications, deliver an online demonstration or a presentation in real time.

Or use Dynamic Desktop for Product Support and Help Desk applications. Calls to your Support Center can be taken care of more effectively and efficiently when your Support Technicians can quickly and easily access the Caller's machine through our tunneled Java connection to load diagnostic tools, explore your application and install fixes. No ports to open, no IP addresses to expose, they just click and connect. Combine Dynamic Desktop with regular hotComm features like full motion video and Voice over IP, to personalize the experience.

Dynamic Desktop is currently available at no charge with hotComm Presenter class clients.
hotComm Call Group Manager

For cost effective Web based Customer Service applications, hotComm Call Group Manager accepts, acknowledges and queues multiple Service requests from any Web site, making them visible over secure connections to Service Agents, equipped with hotComm, who can be located anywhere in the world. Service and Support can transition coverage from one time zone to another. As Agents reach the end of their coverage, they log out of the Support Group as others log in. All Agents see the active queue, selecting calls to launch a secure and private session with each caller according to corporate policy, oldest first, by Agent specialty or by caller referrer code. IM-Live creates a dynamic, direct and secure connection to the Service Agent hotComm client anywhere in the world. And that Service Agent can remotely manage the user experience at the browser, answering questions, presenting Web pages or other documents as appropriate.

While waiting in queue, callers are offered the opportunity to download freeSpeech, the voice over IP component of IM-Live if they have a microphone installed, effectively overlapping the queue time. When the call is picked up, the Service Agent and the caller have full duplex voice capabilities to quickly address the caller's questions or requirements. The Service Agents are able to handle multiple calls, simply moving focus from one active window on the screen to another and taking their voice connection with them.

hotComm Call Group Manager 12 month license: $1995.00 Free Trial Order now
hotComm Call Group Manager package: see Orders.
For more structured content distribution, hotComm Content Relay Manager is an unattended relay implementation of hotComm Professional designed to be hosted on a Windows NT class machine with suitable bandwidth. The Content Relay Manager accepts multiple hotComm client input feeds and multicasts them to the viewing community who access view the content through hotComm, hotComm lite or IM-Live, the Java applet. Content Relay Manager includes hotComm TreeCast Moderator, an innovative improvement in the efficiency of Webcast delivery. TreeCast Moderator dynamically creates a hierarchical routing based on the user profiles, including connection history and available bandwidth, among the receiving hotComm client audience. This means that qualified hotComm clients who receive a WebCast, simultaneously contribute their otherwise unused outbound bandwidth to push the transmission to the downstream clients. Similarly, since a Webcast receiver must be a recognized hotComm user (registered user or paid ticket) to even be included in the dynamic routing algorithm, the opportunity for "free rider" presence is eliminated. In a corporate setting, this adds the feature of confidentiality and control, in entertainment applications it serves to protect revenue. Similarly, the flexible and dynamic network structure of the 1stWorks Network eliminates the server farms and big pipes otherwise required to assure a given QoS level in Webcasts, enabling anyone to act as presenter to a spontaneous group. Current Webcast vendors have hosting and bandwidth costs which can be significant and require prior commitment. Delivery over the 1stWorks Network is less expensive, more flexible and spontaneous. Incidentally, this capability can also be deployed in the conventional enterprise collaboration market targeted by hotComm since moving any form of content among a very large audience could benefit from this dynamic rebroadcast capability.

The feeds can include any content form supported by hotComm, including dynamic or recorded chat, voice, video, files and presentations. As a practical example, consider corporate meetings and announcements. Simply email the intending recipients asking them to link to the hotComm Content Relay at the Company at the appropriate time. They will each receive the announcement securely and simultaneously, with the Company's charts, documents and supporting commentary, right at their browser. Any participant may ask questions through the Java applet message panel, copies of which are automatically distributed to all other session members, and all session members can hear the answers simultaneously. This capability could extend to many other forms of corporate meetings, sales presentations, even fan club meetings.

You can create moderated and ummoderated chat rooms with hotComm Content Relay Manager. See Sample Chat Rooms.

Separate licenses are required for attached hotComm clients.

hotComm Content Relay Manager 12 month license: $9995.00 Free Trial Order now
hotComm Content Relay Manager 3 month license: $2995.00
hotComm Proxy Server

With hotComm Proxy Server, your callers can reach you regardless of their (or your) firewall situation. All connections go through the Proxy Server and are sent through firewalls as standard http connections.

hotComm Proxy Server 12 month license: $1995.00 Order now

EmKay Professional Series Headset (Model #VR-3345)
| | |
| --- | --- |
| | This headset features the industry's top rated NR Series noise canceling microphone and dynamic speaker. Emkay's noise canceling microphone virtually eliminates background noise, thus allowing you to be heard in the most noisiest environments and still deliver maximum performance. Unique D-Loop TM design fits over the ear creating a more comfortable fit. Headset is extremely comfortable and lightweight. Superior headset for speech recognition and Internet Telephony. Headset plugs into the soundcard of your computer or laptop. |
We at 1stWorks evaluated many computer headset microphones and found this to be the best and most comfortable.

You can purchase the EmKay Professional Series Headset through 1stWorks. The EmKay headset is provided by arrangement with EmKay Innovative Products (www.emkayproducts.com).

EmKay Professional Series Headset: $59.95 Order now


ATR97 Omnidirectional condenser boundary microphone
Ideal for meetings, teleconferencing and desktop computer use
Omni pickup pattern offers full area coverage
On/off switch on bottom
Rugged housing features low-profile design for minimum visibility
Permanently-attached 4.9' (1.5 m) cable terminated with 3.5 mm mini-plug
ATR97 Specifications
Element: Condenser
Polar Pattern: Omnidirectional
Frequence Response: 50 - 15,000 Hz
Impedance: 1000 ohms
You can purchase the ATR97 border microphone through 1stWorks. This microphone is provided by arrangement with Audio-Technica (www.audio-technica.com). See the ATR97 product page.

ATR97 border microphone: $49.95 Order now


Acoustic Magic Voice Tracker Array Microphone



Automatic electronic steering of "listening beam" to talker location
Selectable steering limits (60 degrees and 180 degrees) for speech recognition and teleconferencing modes
Selectable LDSTM to reduce annoying interference of additional talkers during speech recognition or feedback during teleconferencing
Two stage noise reduction (spatial filtering and noise reduction processing)
8 element, 18 inch long array for maximum range
5 element "in range" light to indicate location of chosen talker and sufficiency of signal
Microphone tilt capability to facilitate desktop or monitor top mounting
Weight: 2 pounds
Power: converter from 120V AC to 6V DC included
You can purchase the Voice Tracker ™ Array Microphone through 1stWorks. The Voice Tracker ™ Array microphone is provided by arrangement with Acoustic Magic (www.acousticmagic.com).

Voice Tracker™ Array Microphone: $299.95 Order now